Whether you are injured due to a sport, an automobile accident, a workman's compensation injury, an injury due to overuse, or surgery, our therapists are trained in the latest therapeautic techniques essential for accurately diagnosing and treating various conditions. We will work with you and show you different exercises so we can get you back to your prior level of activity!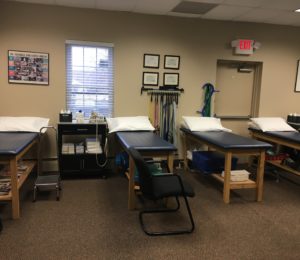 Dr. Jonathan Punzone, PT, DPT
Dr. Punzone attended undergraduate college at St Francis College, where he graduated cum laude, majoring in biology with a minor in philosophy. He then studied Physical Therapy at Long Island University. He was active in the American Physical Therapy Association student council of New York as a delegate, and took part in the Long Island University Physical Therapy council. Dr. Punzone was acknowledged in "Who's Who among American Colleges and Universities" several times, as well.
Dr. Punzone has been practicing physical therapy for a decade. He has worked in hospitals, home care, sports clinics and outpatient facilities. From pre-schoolers to the elderly, Dr. Punzone has worked with many populations and is proficient in many levels of care, such as taping, strengthening and conditioning, and gait and balance training. If you're in pain, having trouble walking, or suffering from any other physical ailment, Dr. Punzone will be able to help you reach your goals!
Dr. Pulice is a graduate of SUNY Stony Brook. She graduated with her bachelor's degree in Health Science and went on to pursue her Doctorate degree in Physical Therapy.
Dr. Pulice has been practicing in outpatient orthopedics for over 16 years spending almost 7 of those years in a spine dominant clinic. She has exposure to treating patients in aquatic as well as home settings. Dr. Pulice has a special interest treating postoperative patients, especially spine, shoulders and knees. She treats a broad range of patients from pediatrics to geriatrics utilizing the knowledge she's gained from educational seminars in McKenzie Method of Diagnosis and Treatment, Trigger Point Release and Kinesiology Taping to name a few. Dr. Pulice is certified Functional Movement Techniques (FMT) in Kinesiology Taping and Instrument Assisted Soft Tissue Mobilization (IASTM).
Dr. Pulice takes the time to evaluate each patient and create an individualized program based on the patient's needs. From stretching and strengthening to gait and balance issues, Dr. Pulice will work with each patient to help them achieve their goals of returning to their normal functional level.
We specialize in providing the most advanced rehabilitation programs and focus on restoring function so that you can return to a normal active lifestyle. Schedule an appointment to see how we can help you relieve your pain and improve your quality of life.
What To Expect During A Physical Therapy Evaluation

After you have scheduled your physical therapy evaluation, please arrive 10 -15 minutes prior to your appointment to fill out any forms that may be required for your first physical therapy visit. You will promptly be taken in to be seen by one of our experienced physical therapists for an examination that will review the reason for your appointment today. Be prepared to explain your symptoms to us and what you believe might be the cause. The physical therapist will then perform specific tests and take measurements to help find the underlying cause of your complaints. Your examination will include:
– muscle strength testing
-range of motion measurements
– neuromuscular assessment
-postural review
-balance testing
-gait assessment
When you have completed your evaluation, you and your therapist will discuss a plan of care, and what you can begin to do at home to help manage your symptoms. The best frequency of treatment to ensure the optimal results from your physical therapy experience will also be discussed.
We have early and late hours to accommodate most schedules. Our spacious treatment area is constantly cleaned. During your visit, the physical therapist will begin to prepare you for an individualized home exercise program to help you maintain your progress. Here at Massapequa Pain Management and Rehabilitation, our goals are your goals. We strive to help you return to a level of health that allows you the ability to enjoy life again. We will achieve this by making you, the patient, an active participant in the healing process. Regular re-examinations will be performed to help track your progress and modifications can be made along the way to help you stay on track to reach your goals. Whether it be sports injuries, motor vehicle accidents, orthopedic issues or other ailments, trust us to bring a level of care that will help guide you through your path to recovery!
Serving the area for over 25 years. Call us to set up an appointment today!
Wide range of therapy options:

• Orthopedic sports injuries
• Post surgical care
• Motor vehicle and workmen's compensation injuries
• Carpal tunnel
• Neck and back injuries
• Manual therapy
• Therapeutic exercise
Physical Therapy Hours:
Monday:
9:00 am – 7:00 pm
Tuesday:
9:00 am – 2:00 pm
Wednesday:
9:00 am – 7:00 pm
Thursday:
9:00 am – 2:00 pm
Friday:
9:00 am – 7:00 pm
Looking for other treatment?