Avoiding Slips & Falls This Winter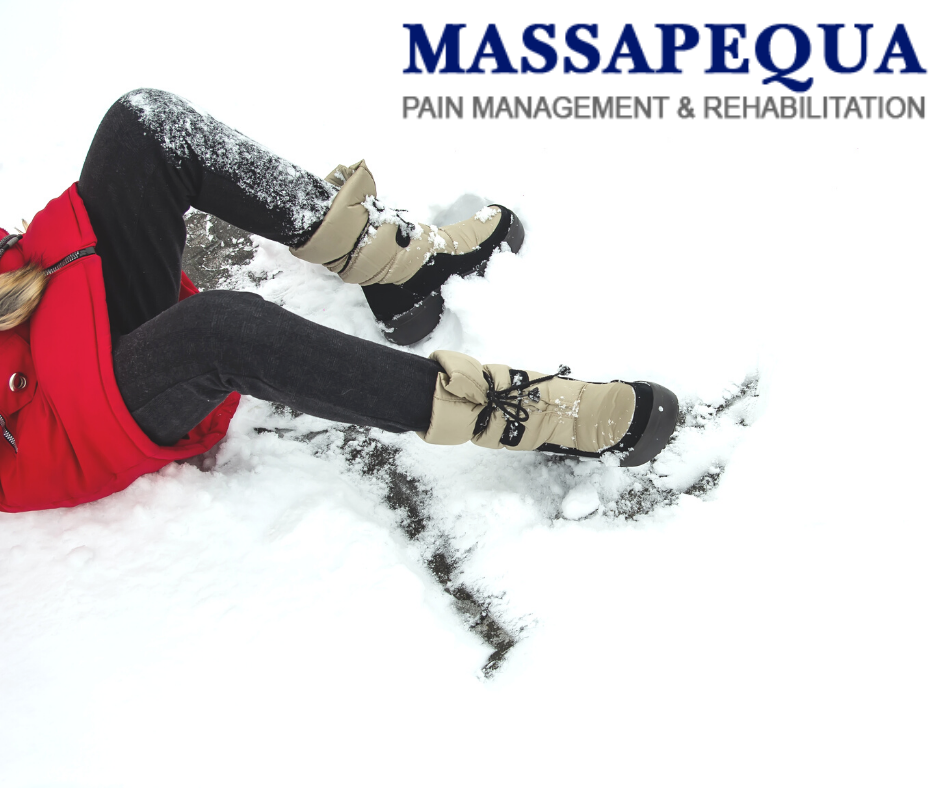 The winter season can be a treacherous one when it comes to walking around outdoors. With icy and slippery conditions prevalent during this time of year, the risk of slipping and falling is heightened. Suffering a fall can lead to some devastating injuries, and our team here at Massapequa Pain Management & Rehabilitation is here to help. We want to share some ways in which you can avoid suffering a fall, as well as be there to provide the care you need should this happen to you.

Common Injuries
Although it is unfortunate, some people do not take the risk of falls seriously enough. To negate this, our team would like to share some injuries that can occur as a result of a fall. Some of the most common injuries include:
Head injuries.
Spinal cord injuries.
Broken hips or pelvis.
Shoulder and neck problems.
Muscle breaks, fractures, and dislocations.
Ligament sprains.
Preventing Slips & Falls
While you may not be able to control the outdoor conditions that often cause slips and falls, there are things you can do to stay safe. By following the prevention methods offered by our team, you stand the best chance of remaining upright and injury-free when you need to travel outdoors in the winter. The top techniques that will help keep you protected include:
Investing in winter footwear with proper traction on the soles.
Try avoiding carrying items or keeping your hands in your pockets when you walk to enhance your balance.
Be vigilant of areas that can contain black ice.
When possible, avoid walking on pathways covered in snow.
Walk slower and more deliberately than you usually would when there are better outdoor conditions.
Remove footwear immediately after entering the house to avoid causing puddles or wet areas to form.
How We Can Help
Even after taking extra precautions, slips and falls are sometimes unavoidable. If this happens to you, we urge you to schedule an appointment with our team at Massapequa Pain Management & Rehabilitation. We specialize in various treatment services and will pair you with the one that offers the most benefits for your specific injury. After performing a full assessment of your condition, our team may perform any of the below for care:
Physical medicine & rehab.
Physical therapy.
Orthopedic care.
Chiropractic care.
In extreme cases, spine surgery.
Contact Us
This winter, make sure you do everything in your power to avoid slips and falls. To learn more about prevention methods or to schedule an appointment for care, be sure to contact our team at Massapequa Pain Management & Rehabilitation today!